If you love a puzzle, give 'Cryptograms' a try. It is a fun and challenging puzzle to pass the time with. We have over 5000 unique puzzles for you to solve. You can even make your own puzzles to share with your friends!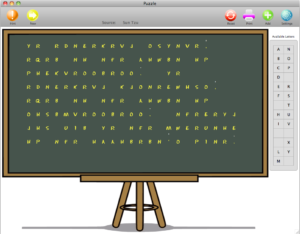 Are you someone who loves a puzzle. Who loves solving cryptograms in your spare time. Or has never tried cryptograms before but thought "I wouldn't mind trying them to see how I go." 'Cryptograms' is the app you have been waiting for.
'Cryptograms' has over 5000 famous quotes which it will pick randomly for you to solve.
You also have the ability to enter your own quotes for either yourself or someone else in your household to solve.
So you are looking for a program that you can 'waste' a lot of time on instead of doing the housework or gardening etc and at the same time stimulating your brain, 'Cryptograms' is the app for you.